​On June 3rd, 2023, Monroe Consulting Group Vietnam participated in the AmCham Scholarship interview selection event. As panelists consisting of HR/recruitment professionals, Monroe Vietnam employees, along with other experts, conducted interviews with 120 candidates who had already passed the Application Screening and Ability Tests. The purpose of the interviews was to assess specific competencies and shortlist candidates as potential winners.
AmCham refers to the American Chamber of Commerce in Vietnam, a not-for-profit, non-governmental, and non-political voluntary membership association of American businesses in Vietnam. Since 2001, the AmCham Scholarship program has awarded 935 scholarships to senior students who have demonstrated academic excellence and excelled in extracurricular activities. The students underwent a rigorous three-stage assessment process, which included Application Screening, an Abilities Test, and an English Interview.
Five consultants from Monroe Vietnam participated as expert panellists during the interview selection process; Anh Pham (Trane), Thi Nguyen (Claire), Khang Phan (Eric), Thong Vo (Thomas), and Phong Nguyen (Rhett), were joined by HR Heads, HR Managers, and Recruitment Managers from renowned organizations such as Medtronic, Tessellation, Groove Technology, Techtronic Industries, EPAM, CBRE, Intel, Pharmacity, as well as recruitment agencies.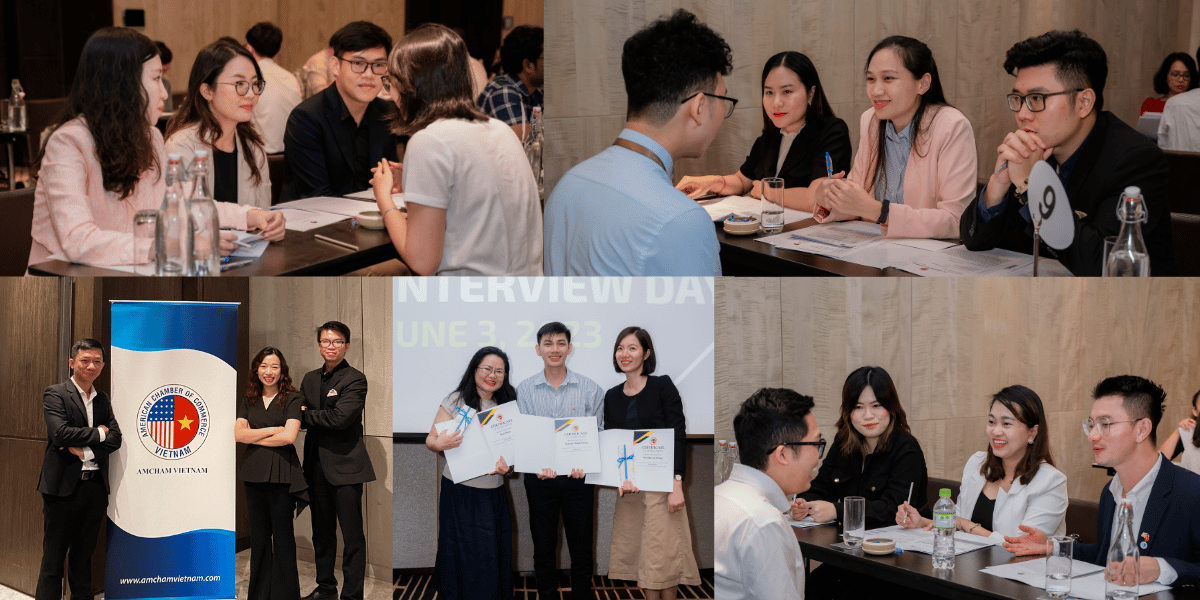 Phong Nguyen (Rhett), Senior Associate Recruitment Consultant at Monroe Vietnam, expressed his enthusiasm about the event and meeting young and talented students, saying, "As a guest interviewer at the AmCham interview day, I was thrilled by the lively atmosphere and the opportunity to meet talented candidates. The event was buzzing with excitement as candidates showcased their skills and qualifications. Engaging in meaningful conversations with them was truly inspiring. I witnessed their passion and drive, which left a lasting impression."
Rhett summarized the experience after interacting with numerous ambitious students, stating, "The day was filled with thought-provoking discussions and insightful exchanges that highlighted the candidates' knowledge and expertise. It was an energizing experience that reinforced my belief in the potential of the next generation of professionals."
At Monroe Consulting Group our passion lies in empowering individuals to seize their next career opportunities, and we extend this commitment to our clients as well. We connect our clients with the next generation of talent to help them build a future-ready and agile workforce. If you're interested in partnering with us or discussing future hiring needs, please contact us: vietnam@monroeconsulting.vn