Recruitment Agency Indonesia
Business sentiment has greatly improved in Indonesia, with a renewed optimism from organisations for growth opportunities that are set to increase hiring activity. Organisations that are proactive in developing their recruitment strategies and planning will be better positioned to build a sustained advantage over their competitors.
Organisations across Indonesia and Asia are fiercely competing the attract talent to achieve their growth goals. The ability to recruit not just good, but the best staff has become a critical factor for business success. However, developing recruitment plans and managing the process can often be overwhelming for internal teams to execute quickly and effectively.
Monroe Indonesia recruitment services are designed for one thing - to help you find the best people that match the skills, experience, and culture requirements of your organisation. Our proven recruitment process consistently attracts and selects outstanding candidates.
Our team of dedicated recruitment consultants based in Jakarta have assisted some of the most successful organisations in Indonesia with their recruitment, workforce planning, and HR consulting needs. It's this level of expertise and service that sets us apart. For over 15 years we've been at the forefront of recruitment solutions in Indonesia, delivering the best staff, on time.
Whether you need to find top talent or a consulting solution for managing your business and resourcing challenges, Monroe Indonesia is here to assist you. Or if you are a professional in search of exciting job opportunities, you can apply here.
Contact Us

​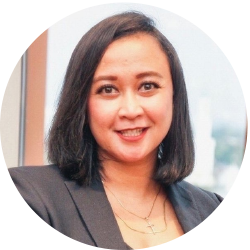 Tina Nugraheni
Managing Director
Monroe Consulting Indonesia | Jakarta
agustina.nugraheni@monroeconsulting.com
+62 21 5098 2629
Starting as a consultant with Monroe in 2012, Tina has served as division head for both Technology and Industrial divisions before taking the role of Deputy Managing Director in 2019 and then promoted to Managing Director in January 2022. An MBA Graduate from NTUST Taiwan, her focus on delivering exceptional service to both clients and candidates has seen Monroe Consulting Indonesia achieve significantly under her leadership. Her life motto is to do it with passion or nothing at all.
Why Choose Monroe Indonesia as Your Recruitment Agency?
Our highly experienced, specialised recruiters know the Indonesia & Jakarta recruitment market well. They are regularly in touch with candidates and decision makers, staying abreast of movements in the market and candidate expectations. At all times you will be assured of our knowledge and expertise throughout our relationship.
When engaging Monroe Indonesia recruitment services, you can be assured of:
Outstanding Sourcing Capability
We specialise in engaging the most effective areas of the job market to fill positions, including passive candidates who are not actively looking for job. We go beyond the usual recruitment advertising methods by develop industry-wide relationships with candidates who help to connect us with the right talent pools.
Exceptional Service
When working with us you will be assigned a dedicated recruitment consultant that specialises in your industry. Your success is our success - we work hard to find the very best candidates that will contribute to the long-term growth of your organisation.
Global Reach and Partnerships
As part of the Empresaria Group, Monroe Indonesia works together with other global recruitment organisations to access the best recruitment technology and skills needed to find the right candidate. Wherever your perfect candidate may be, one of our recruitment consultants will not be far away.
Speed
Many candidates will only be in the market for a short period of time, giving a small window of opportunity to generate and maintain interest in a role. We also know that vacant jobs in an organisation will slow its growth. We therefore work with urgency, without compromising quality, to deliver results, fast.
When engaging Monroe Indonesia, you can be assured that you are partnering with a recruitment agency with the knowledge, experience, and skills to deliver the best recruitment solutions possible.
About Monroe Recruitment Indonesia
Monroe Consulting Indonesia is an award-winning recruitment agency based in Jakarta, established in 2005.
Our team is made up of highly skilled and experienced recruitment consultants with established track records of delivering the right candidates, on time. Monroe Consulting Indonesia is supported by our sister offices throughout Asia, as well as the Empresaria Group which comprises of over 20 staffing brands. This gives us access to a global network of recruitment resources, 24 hours a day, all around the globe.
Our extensive recruitment expertise and global reach means we leave nothing to chance when developing recruitment strategies and plans for your organisation and sourcing the best candidates.
Monroe Recruitment Awards
Our proven track record and industry recognition ranks us among the top recruitment agencies in Jakarta, Indonesia and Asia-Pacific.
2017 Global Recruiter Magazines Best Small Recruitment Business for APAC (Commended)

2016 Global Recruiter Magazines Best Client Service for APAC (Commended)

2015 Global Recruiter Magazines Best Overseas Operation for APAC (Commended)

2015Global Recruiter Magazines Best In-House Training for APAC (Commended)

2015 Global Recruiter Magazines Best Client Service for APAC (Commended)

​

Indonesia Recruitment Testimonials
​Monroe is our partner for our recruitment requirements in Indonesia. They have been very active in finding suitable candidates for us and are always online whenever I need them. They make sure to provide interview notes with every resume and are knowledgeable of our requirements. What I like is they are very different from the other Executive Search companies by giving me a weekly report to help me track the progress of my recruitment process.

Genevieve Nebab

​If you are looking for fully vetted talent that meets your company's needs, look no further. Monroe Consulting Indonesia goes above and beyond to find a candidate than a client needs. I had the pleasure of working with Monroe Indonesia to find a candidate and their professionalism shone through from the beginning till the end. I will absolutely hire Monroe Indonesia again in the future if/when the need arises​

W. Wijaya

​Monroe's RPO team is really helpful and insightful. They can support us with a lot of targeted CVs and provide some updates related to what happens in the related industry/market. The consultants relieve some parts of our recruiters' loads by making sure the recruitment process can be done smoothly. Their contribution to win the candidates during the negotiation process are also good. We can close almost 75% of offered candidates without any major issues/ renegotiation needed.

Gina Anida

GoTo Financial, part of GoTo Group
Contact Us
Don't let the perfect candidate slip through your fingers - contact Monroe Consulting Indonesia today. Let us be your trusted partner in building a team that will drive your success.
​
​
---
​
Indonesia Recruitment Market Update
​The tech scene in south-east Asia's largest economy is booming and the demand for talent will continue to grow. The rise of tech start-ups will drive demand for skilled professionals in Indonesia, especially those with a background in data and product engineering.
Initial Public Offerings (IPOs) from large tech players such as GoTo (Indonesia's biggest tech firm), WIR Group, Bukalapak and Grab (the country's most valuable tech unicorn) show the level of ambition of Indonesia's big tech players. To ensure the timely and effective delivery of their increasing number of projects will require specialist tech skills.
The easing of restrictions has greatly boosted the confidence of the hospitality sector in Indonesia, which suffered at the hands of COVID. International visitor arrivals are increasing in number, helping the industry recoup some of the heavy financial losses inflicted by the pandemic.
There has been a big rise in remote working over the past 12 months, with the majority of candidates in Indonesia preferring total flexibility when it comes to their place of work.​
​
Recruitment Market Reports
We are on the pulse of the latest trends in Recruitment. Download our reports to learn more about our market insights in Indonesia.