On 2 April 2023, Monroe Consulting Indonesia participated in Sahabat Anak weekly learning program to teach and donate.
Sahabat Anak is a children community foundation that advocates for children's rights, particularly those who are marginalized and at risk of being on the streets, by providing free education scholarships, healthy meals, health check-ups, and educational advocacy.
The Monroe Indonesia team collaborated with Sahabat Anak volunteers to spread joy and knowledge among almost 100 children living in the Cijantung area of East Jakarta. The team spent the day engaging the children in storytelling sessions and games, aiming to inspire their love for learning and show them that it can be enjoyable and not just a tedious task. The event coincided with Ramadan, so it concluded with food distribution for the children's iftar, the breaking of the fast. Monroe Indonesia also provided stationary donations to support the children's learning activities.
"This is the third time Monroe Indonesia has collaborated with Sahabat Anak. We extend our gratitude to Sahabat Anak for providing us with the opportunity to work towards fulfilling the rights of these children, as well as to the employees who participated. We strongly believe that the children of today are the nation-builders of tomorrow, and we are committed to supporting their growth and development in every way possible," said Tina Nugraheni, Managing Director of Monroe Indonesia.
Cilla, the head of volunteers at Sahabat Anak Cijantung Indonesia (SACI), expressed her gratitude: "We at SACI are very grateful and elated for the presence of the Monroe Consulting team. Thank you for entertaining the younger siblings with informative folklore stories and for sharing your blessings in the form of iftar meals that they truly enjoyed. The SACI management hopes that our relationship with Monroe Consulting will continue to thrive and that we can even synergize to create a positive impact on the education of marginalized children in Indonesia."
​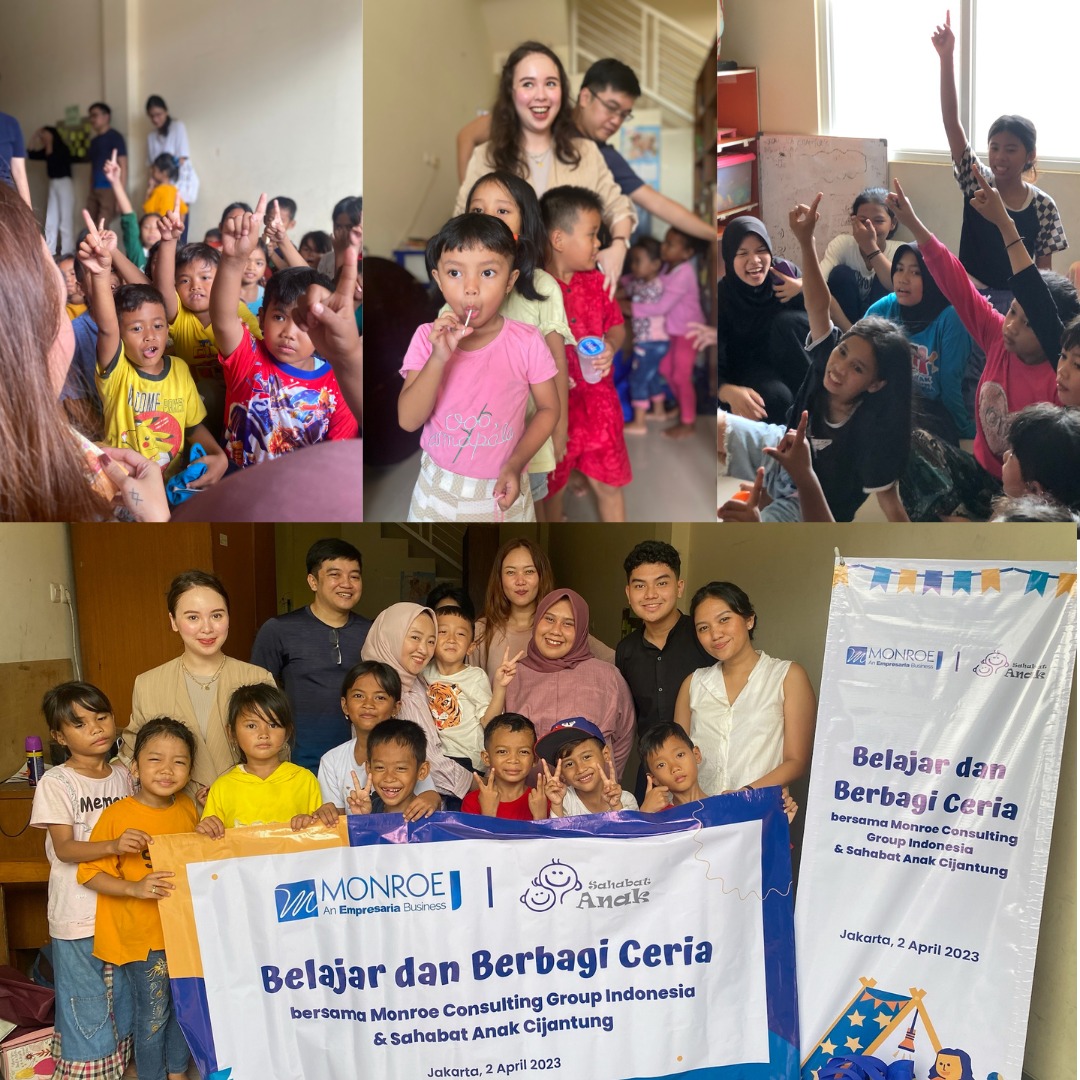 At Monroe Consulting Group, we understand the significance of supporting our community. We have partnered with NGOs and charitable organizations in the past by making donations, organizing fundraisers, and engaging in volunteer activities to ensure that we are making a positive impact on the communities we serve. If you are interested in partnering with us, please contact our offices.