​The BFSI (Banking, Financial Services, and Insurance) and Professional Services sectors in Indonesia are undergoing a transformative hiring revolution fueled by the rapid adoption of technology. Digital transactions have become the focal point, presenting both opportunities and challenges, especially when it comes to reaching the unbanked population. While the government is actively supporting digitalization through regulations and infrastructure development, data protection and security remain key concerns.
In this evolving landscape, bridging the talent gap is of utmost importance, especially in the context of emerging technologies. The Professional Services sector, in particular, is witnessing a rising demand for consultants who can guide organizations in embracing new technologies and navigating environmental sustainability governance.
On average, the recruitment journey takes approximately three months, with Senior Manager roles experiencing high demand. To navigate this changing landscape successfully, it is essential to update salary standards, develop strategic hiring plans, and prioritize employee retention efforts.
For individuals seeking career growth, staying updated with industry developments, acquiring relevant qualifications, considering location and work arrangements, and engaging with recruitment agencies are essential steps to explore exciting opportunities.
Whether you are an employer in need of hiring assistance or an individual seeking an exciting career path, our team at Monroe Consulting Group Indonesia is here to support you. As industry experts, we have the knowledge and connections to help you seize new opportunities or find exceptional candidates. Reach out to us today and let us empower your hiring or job search journey.

​
Challenges & Opportunities
BFSI and Professional Services sector in Indonesia are experiencing a significant hiring focus shift as technology adoption accelerates.
Banking and Financial Services Sectors
Digital transactions and penetration remain the focus topic for both the industry player and the lawmaker. Based on the government data, 40% of ASEAN digital payments come from Indonesia with a value estimated at 7.8 billion USD per year. With the remaining 48.2% of population still unbanked, the push of digitalized banking services to serve the unbanked remains the big challenge and opportunities in Indonesia.
The introduction of data protection and consumer rights regulations together with the launch of Indonesia satellite, Satria-1, shows the response from the government to support this digitalization penetration further, especially in the tier-2 cities across the nation. This will help to support the sprout of neo-banks, digital wallets and online transactions in Indonesia.
However, the technology adoption maturity remains a big challenge for Indonesia. With 76% of the population has been using the internet in Indonesia, the law and understanding regarding personal data protection and security are still not robust enough to make sure a seamless usage of technology in this sector. This growing concern was brought into the limelight as the increasing occurrence of digital fraud in Indonesia.
The talent gap also become a challenge for both industry players and the government in Indonesia. With this evolving landscape of retail financial services and the challenges it presents, industry players and talents are pushing to increase their understanding and expertise to be able to adapt and thrive in this phenomenon. The adoption of emerging technologies such as artificial intelligence and machine learning, API technology, even blockchain and augmented reality has been brought to radar this year.
Professional Services Sectors
Experts and consultants are experiencing evolving demands from the market regarding their expertise. With the emergence of technology and the advancements it brings to the market, consultants and experts are challenged to guide the adoption of technology in multiple industries. This effort can be seen in the increasing investments of global professionals firms in emerging technologies.
Environmental sustainability governance is also a hot topic emerging in Indonesia. The development of regulations in this sector is among the efforts being pushed by the government. OJK, through Monroe Consulting Group, has hired an expert in this field to drive the regulatory initiatives. Monroe predicts that this expertise will be in high demand in the next couple of years globally, as we have witnessed a rapid push for more sustainable practices across industries.
​
In-demands Positions
2022
​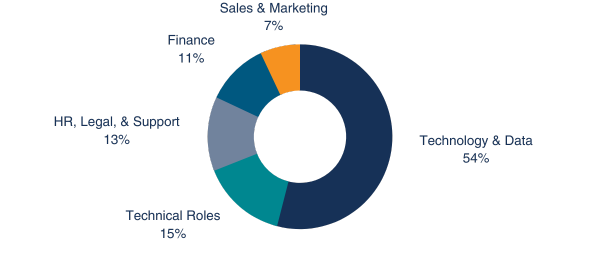 2023
​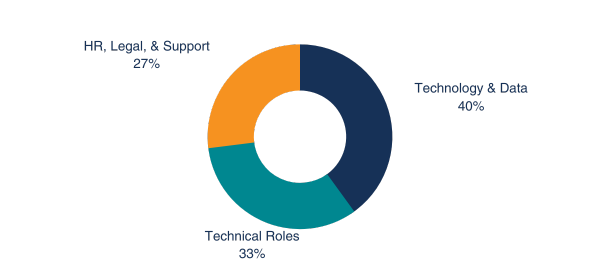 ​
Recruitment Journey
Recruitment process from job brief to signing offer: 3 months (average)

Interview stages: 3 to 4 stages

Notice period: 1 to 3 months (depends on the seniority)
​
Helpful Recommendations
For Employers
Updating Salary Standard based on the current industry situation

Establishing hiring plan and budget based on business development timeline to keep up with the current market

Collaborate with recruitment agency to build hiring plan and get the best candidate

Emphasize on company retention plan – culture, long term career plan
For Job Seekers
Stay updated with new skills and requirements in the market

Prepare the necessary certifications or qualifications based on the desired positions

Consider location-based factors, working arrangements (hybrid, full WFO, WFH), and roster arrangements (if applicable)

Evaluate both push and pull factors before making any decisions

Be committed to joining a new company for a fresh challenge and a chance to leave your comfort zone, as long as it aligns with your personal goals and development

Engage in discussions with the recruitment agency to explore new career aspirations and opportunities for relocation
​
At Monroe Consulting Group we remain committed to providing our clients and candidates with the latest insights on hiring and talent trends in the Indonesian job market. Download our comprehensive salary guide and BSFI and Professional Services sectors candidate hotlist, whether you are an employer looking to set competitive salaries for your employees or a candidate seeking fair compensation, our resources offer valuable insights and a selection of experienced professionals.
​
If you're interested in discovering more about our wide variety of services, which cover Executive Search, Recruitment Process Outsourcing (RPO), Payroll management, Outplacement assistance, Talent Mapping, and Contracting solutions, get in touch with our team today. We'll work with you to personalize our offerings and address your hiring requirements.